Happy Friday!
It's a boring Friday here. Rainy and cold. And it makes day 3 of our cat missing.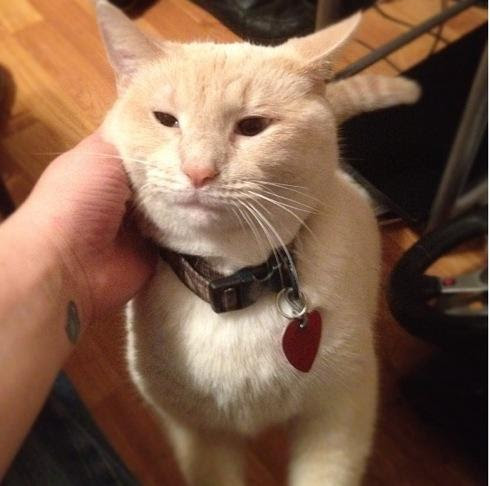 Roscoe's always been a wanderer but Wednesday while he was outside, it started raining and we haven't seen him since. Last time he was just out back when it started sprinkling and he quickly booked it to the backdoor.
One time at Fort Knox, he wandered off and was gone all day & overnight. We thought he was gone for sure (he was barely 2) but the next morning we found him just sitting on the back deck (which was off the ground by 7 or 8 feet). So I'm really hoping that this is the case again. That he'll just turn up. It's never been this long though. And the weather here has not been pretty. And Roscoe's pretty old, he's 7. He's older than our children.
I've posted his face on facebook pages and people are on the lookout for him. I'm going to make flyers this weekend and get them hung up around the neighborhood. It's just so weird to me because he ALWAYS just comes right back inside.
Anyway, good deeds good deeds..... I took the kids to McDonalds and to Walmart the other day for lunch and for a few things. While there, I was struggling to get our tray and carry Owen. I was doing fine until the kids asked for ketchup and then realized that they couldn't pump it themselves. The lady that took my order (who was a bit grumpy at first) nicely offered to help as well as some guy just standing there waiting on his food. She beat him to it, but she then also carried our tray for us as well as yelled at the guy who was supposed to clean the play room. (it was gross)-she refused to let us sit down until she got a washcloth and wiped it down for us. Then last the guy came through and looked at all the tables and walked back out. I guess it was clean to his standards! I laughed when I saw him.
As far as my good deeds though, I struck up random conversation with this lady sitting at Fin's school that looked bored to tears.
I took the kids out for happy meals. (I think being a good mom counts as being nice :p )
(that and I haven't really gone anywhere this week to do anything kind).
I actually did something kind this week, I just can't remember for the life of me what it was. HA.
That's all I've got this week guys.