Hello hello my followers! :)
Eeeep. My friend jenn, at
A Cup Of Jenn
awarded me with my very first blogger award. How exciting huh?! I think she digs my blog. YAY!
Along with this very exciting award, i'm supposed to include 7 random facts about myself... Y'all ready for these?!
1. I've had three last names in my life. Married only once though.
2. I was
Pentecostal
for 4/5years. (Which if you know me now, you'd find that hard to believe).
3. I say i'm from Tennessee, but I was born and spent my first 7 years in Michigan.
4. I love being an army wife. I love NOT knowing where we will be in another 2 years.
5. I bounce back and forth on whether or not I like living in Alaska. Overall, the fact that
I LIVE IN ALASKA
wins and I love it.
6. I wish I could be the perfect Suzy Homemaker, but I suck at cooking/cleaning and all that jazz. :(
7. Things I say throughout the day bounce to the beat of kiddie songs.
Now this is where i'd tag some people and award them as well, but seeing as how I have 7 followers and two have already done this-i'll come back to this. :)
Ok, on to my normal random blogging....
I got my septum pierced. Eeeeks.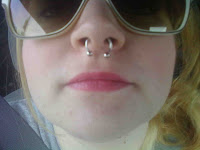 Oh, and I'm now a blond. I can't remember if I mentioned that in my last blog. Ha.