July 22, 2020
I am a member of the Collective Bias® Social Fabric® Community. This shop has been compensated as part of a social shopper insights study for Collective Bias and their client.
This past Friday the kids and I went on a picnic!

We picked up Fin from his summer enrichment program (Summer school focusing on science and math) then came home and prepared lunch.
We made turkey and cheese sandwiches, packed some snacks & cups full of ice so that once we got there we could enjoy our Snapple SnapTea! (David and the kids love the lemon sweet tea but I prefer the green tea- both are perfect summer drinks though).



We attempted to get some group pictures but well, that just didn't go so well. Haha. Owen tried to run back and forth to catch up with me as I'd run to click the button. Fin and Maddie were still trying to eat so they had food in their mouths and were still trying to say cheese thinking it was just the funniest thing (It was!)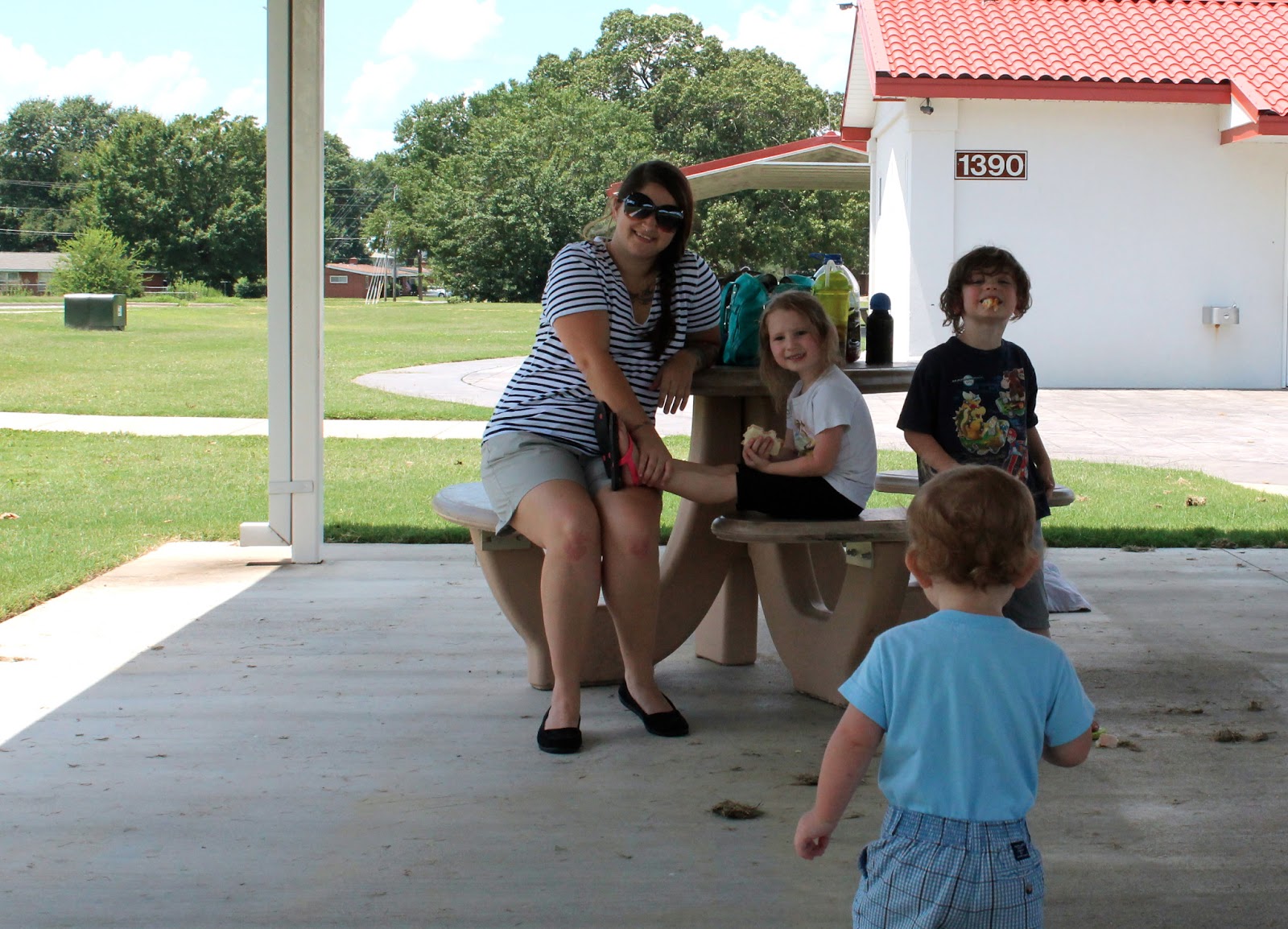 I felt soccer mom like in my sort of khakis -they're gray Dollhouse brand and have studs on the back so they're really NOT soccer mom like but paired with the stripped shirt.... well, soccer mom for the win!
Here's where I attempted some outfit pictures to show you my soccer mom ensemble but the kids thought they'd jump in too. Again, Owen kept running back and forth. It was so funny to watch.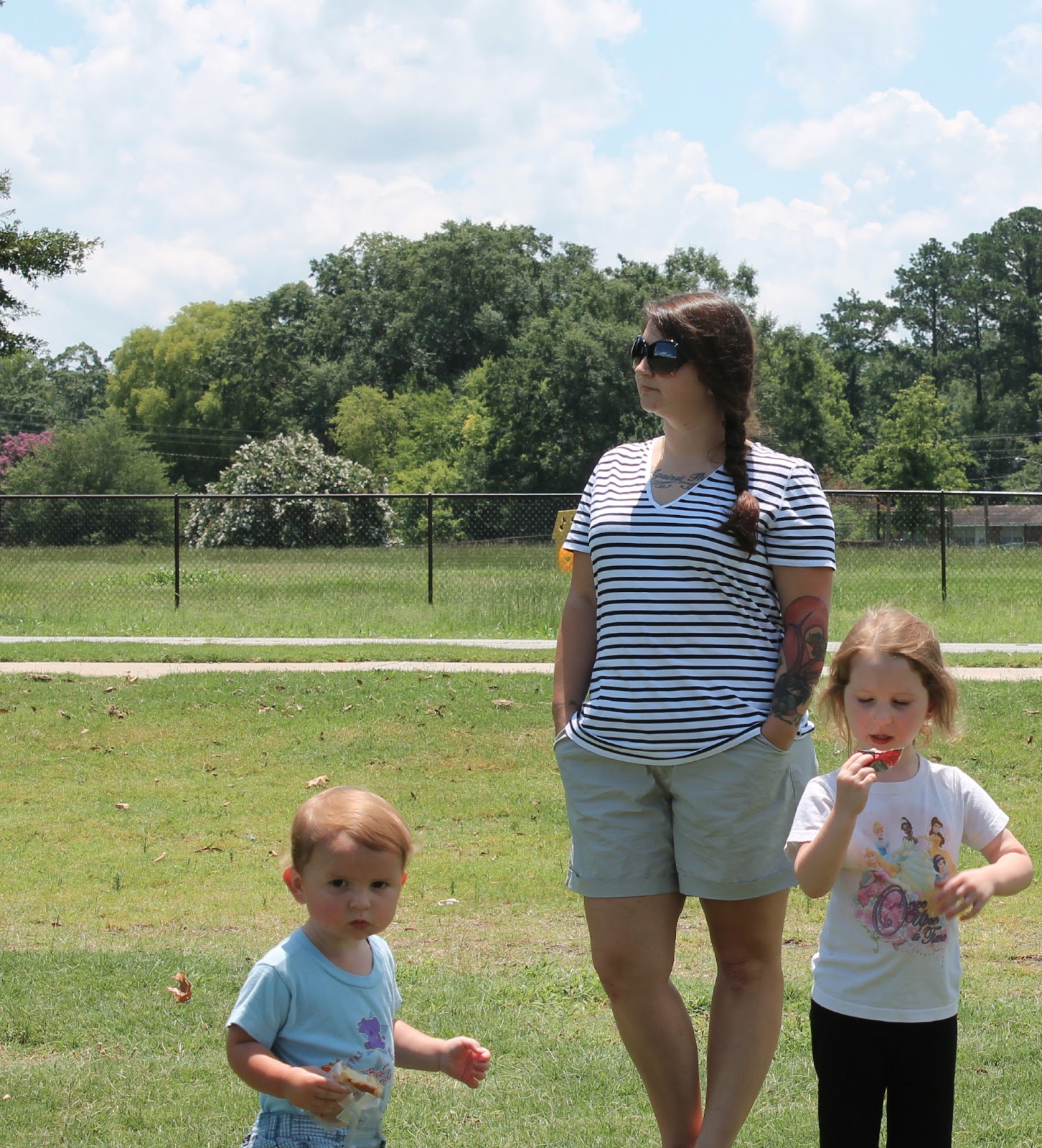 They decided to go have some SnapTea and give me a second to myself. I attempted to take full advantage.


Fin still had food with him and in his mouth! He's a goof.
We took a few like this-sitting in the grass. Fin ran back & forth for me to click the button, he had to quench his thirst after all that running and brought his thermos with him from the table to enjoy some of his tea.
I'm a lucky momma, I really am. Just look how cute these ittle bittles are!
You can head over here to view my Google+ album of our shopping experience.
Now though, the rain is back. I'm glad we got to enjoy a picnic out in the hot sun (and boy was it HOT) before the rain came back to us.
Be sure to head over and follow @snapple to stay up to date on all the great stuff they've got going on!
You can head over to Walmart.com/snapple

and get a coupon for $1 off and you can join in the photo fun challenge and try to win a year's supply of snapple!

Coupons will be on Walmart .com from 5/24-9/30/2013
July 03, 2020
"I wrote this review while participating in a campaign for Mom Central Consulting on behalf of Wet Ones. I received free admission to Six Flags, attended an informational and complimentary luncheon, and received a gift bag and promotional item to thank me for taking the time to participate."
This past Saturday, the oldest two bittles and I went to Six Flags over Georgia.
July 01, 2020
Things sort of start to normal out again for us this week.
Fin starts his summer enrichment program today through the school where they focus on science and math.  He is really excited about it. 
Fin and Maddie have dentist appointments today (cleanings) and David signs back into work today and goes back to work tomorrow.
Fin's "school" is only from 9-12 so that's pretty great too! That means we still have all summer afternoons to check things off our
bucket list
.
Speaking of our summer
bucket list
, I don't think we're doing too terribly on checking things off of it!!  Like umm, number 24 and number 9 just this weekend! (Six Flags and fireworks).
Saturday I took Fin and Maddie to Six Flags (blog post coming about it later this week)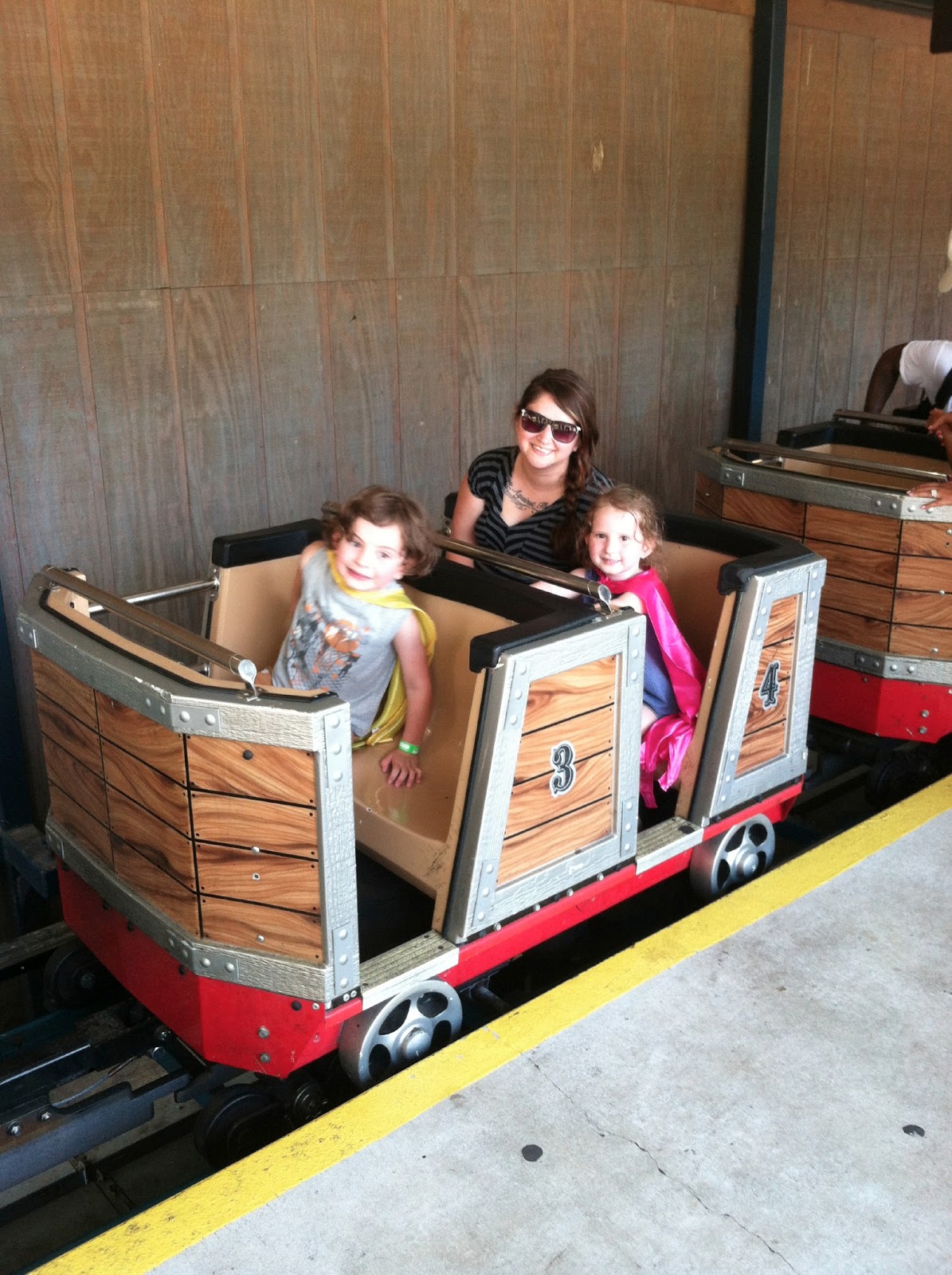 Here's a bit of a sneak peak of that! I am so thankful for my bloggy friend,
Diana
for taking this and a few others and later emailing them to me! My phone was at 40% by the time I got there thanks to mapquest and I needed to turn it off to ensure we'd be able to find our way home!
June 24, 2020
Oil changes
Clear skies! (The whole week that David's parents were in town it poured-the day they left it was sunny)
I got dressed. Like in real clothes and makeup.
June 21, 2020
Happy Friday guys.
Since today is the first day of summer, it seemed only appropriate to share with you our summer bucket list!! YAY!!!
(Summer started a while ago here in Georgia but ya know)
May 24, 2020
Hey guys.
Real quick: Last day to vote. Go vote FOR ME. Help me win some money to spend on the site to buy my kids some shoes for school this fall.
Please. Thank you.
Phew. It's nice to actually talk to you again.
It's been an awkward week on the blog. Like nothing but giveaways.
I rarely sign up to do giveways lately since our finances are all messed up but I swear every time that I do, they all time out to be at the same time therefore looking like I only do giveaways.  *sigh*
Oh well. I hope you guys have liked em! They're some great ones!
Anyway, it's Friday.
And I'm taking the day off.
It's been a mad house around here lately, just go go go, so many things to do, to get ready for, etc etc.
My phone's been going off the hook.
My email has been blowing up like crazy.
I'm sure I've missed a few deadlines and I've rejected a few things that otherwise I wouldn't have but man, I just need today. (I also typed this up yesterday).
So it's a 4 day weekend for Fin, the pool opens today (and it's free, yay). If you need me, that's where I'll be. Don't expect to hear from me until later today though (if even then) because I just need some me time.
And by me time, I obviously mean me as in mommy me time.  :p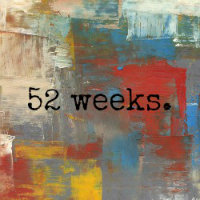 May 16, 2020
First and foremost, GO VOTE FOR ME!!! HERE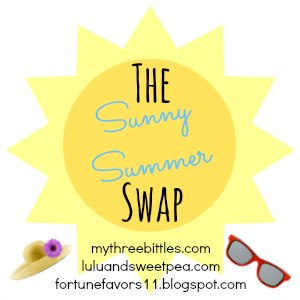 OK girls, for those of you who signed up, it's time to really start thinking about shopping for
The Sunny Summer Swap!
Emails went out yesterday, so if you signed up
check your email and your junk mail folder
! If you still did not receive an email please send Sarah a message at
[email protected]
. There is a chance there was a typo on the form you filled out or an error in transferring your email addresses from the list (mistakes happen- I admit it) so if you checked all of your folders and still didn't get the email, get at Sarah and make sure she has the correct email for you.
Here's a recap of the info you need for the swap:

Sign ups: today through May 14th
Email with partner assignments: May 15th

Check your inbox & junk folder

All packages sent out by: June 1st
Reveal post/link up: June 10th
$25 spending limit
Open to US residents only
Fill out this form here to sign up.

Sign ups now closed!
You have from now until June 1st to shop for your partner and get your package mailed.
Plenty of time for you to get to know your partner a little and shop for her.
Please remember to be fair. If you signed up and were partnered, please don't back out and just not send your partner anything. A lot of this swap is based on mutual trust, so if you said you were going to participate, please do so. I understand that circumstances change and things come up financially that might interfere or that you didn't foresee happening, but there has been plenty of time to contact any of the 3 swap hosts if you had issues. Also, if you signed up and don't participate or don't send your partner anything (especially if she sent you something!) you will be banned from doing any other swaps, linkies, etc in the future with me :)
Keep this information in mind:

Mark these dates somewhere on your calendar, and check your email often
- even your spam or junk folder. Lots of blogger's emails end up in the spam folder (maybe because we send out so many? Who knows!) Emails
will go out on the 15th
, so keep an eye on your inbox for a message saying
Sunny Summer Swap
or something similar
.
Follow the hosts on Twitter to stay up to date on swap stuff!
We'll be tweeting updates & love connecting with you guys through social media!
Use the hashtag #SunnySummerSwap when tweeting all things swap related :)


Once swap partner assignments are sent out, get moving! Don't let that email sit in your inbox without replying to it. Get in touch with your partner ASAP! Say hi, introduce yourself, follow each others' blogs, Twitter, Pinterest, Instagram, etc and get to know each other a little. What does your partner like? Does she like to read? What's her favorite color? Is she a nail polish fan? Does she drink tea or coffee? Does she live somewhere warm? Ask some questions and check out each other's Pinterest boards or Goodreads lists for swap ideas.
Once we email swap partners assignments, it's in your hands. How this swap turns out is entirely up to you and how active/social you are with your partner. You have to take the initiative and contact each other- communicate! Let her know when you ship her package (give her the tracking number if you can!) Tell her if you're having problems finding something for her. Ask questions and keep each other informed. You can't expect to have fun with this swap and have a good experience if you don't actually participate, so have fun and don't be shy! This swap is all about meeting new bloggers.



Need some ideas? I thought you might. I went to Target the other day to get some ideas from summer must-haves. Your swap box can be filled with whatever you want: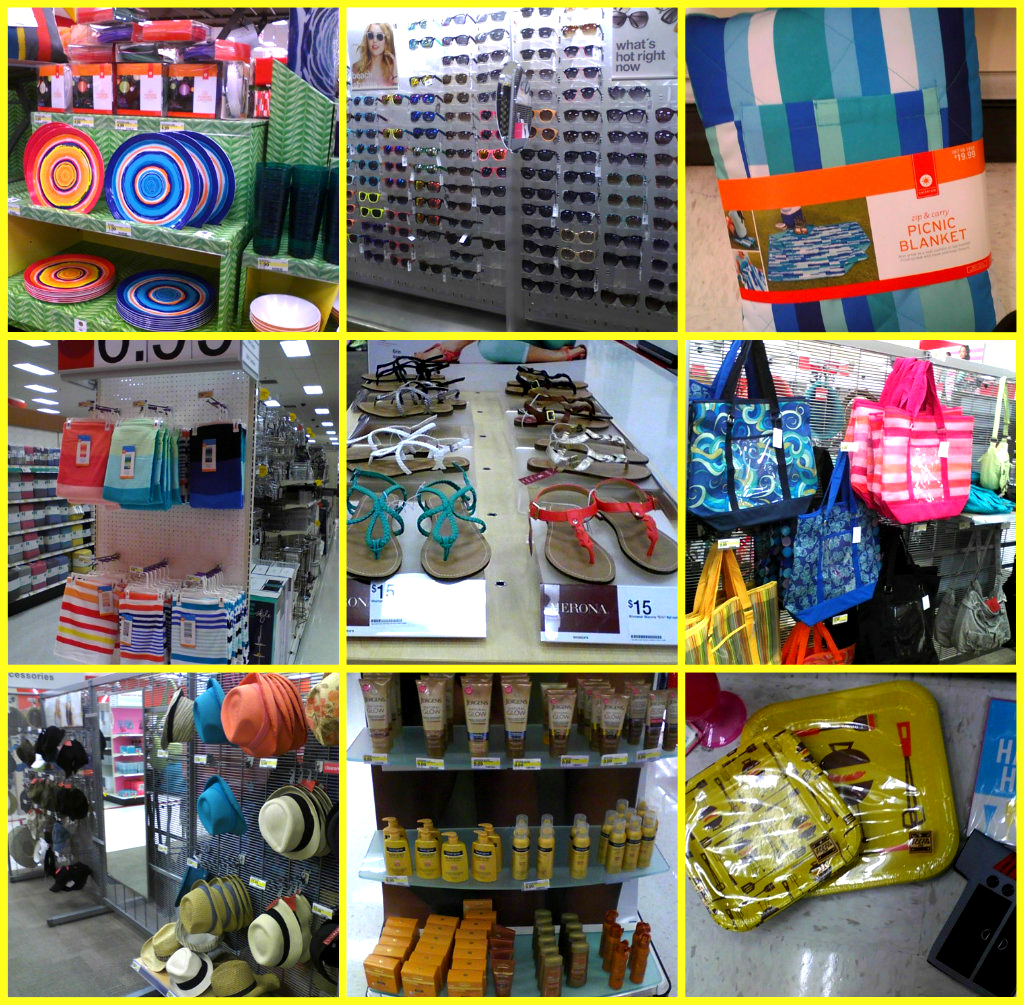 A good summer read, your favorite summer nail polish (think bright, fun colors), self-tanner, sunscreen, magazines, makeup (summery shadows, lip glosses, bronzers, etc), lotion, summery fragrances (Bath & Body Works type stuff), anything coconut scented, favorite tea or summer drink mixes, sunglasses, a cute sun hat, fruity bubble bath/shower gel, stationary items- notepads, mini calendars, to-do lists, etc, flip flops or inexpensive sandals, beach tote, beach towel, picnic blanket, can koozies (beer/soda can coolers), jewelry- earrings, necklace, rings, bracelets, etc, a light-weight scarf, hair accessories (clips, headbands, wraps, etc), beachy candles or Scentsy, summer-themed picture frames or wall art, grilling accessories, bright kitchen accessories, plastic margarita glasses, colorful wallet or clutch, bright colored tank top or sun dress, gift card

Feel free to leave a comment with some more swap ideas! I'd love to hear what you come up with and what some of your favorite summer must-haves are.

Please don't hesitate to email me or tweet me if you have any questions or problems regarding the swap! I would be more than happy to help you in any way that I can, and I would like to know if you have issues with get in touch with your partner.
Remember, the reveal date is June 10th, so don't post about your goodies until then!
(Thank you
Melissa
for letting me steal this whole entire post!)
February 28, 2020
(Source: http://webclipart.about.com/od/seasonsclipart/ss/Summer-Images_16.htm)
The days when you can happily let your kids run outside in the snow without getting sunburned is coming to an end. The blazing hot heat of summer is getting ready to say hello and you will need to get out the sunscreen once again. The appeal of creating snow angels and having snowball fights is just as fun as having a game of marco polo for kids
As a parent, it is your responsibility to keep your kids sun safe and cool while they are enjoying being kids. It is better to plan ahead in the world of parenthood and you do not have to wait until summer to get started.
As winter draws to a close, many retailers bring out end of season sales and there are many bargains. Discounts on sports equipment, pools, ice cream makers, water guns and snow cone machines can be found nearly everywhere.
You just have to decide what you are going to spend on your money on because every child is different in terms of what they like.
Having a great time on a hot day is always about incorporating water - especially water fights!
But to host such battles, your kids need a battlefield. Getting a pool installed is a good choice because then they can take their battles under the water. Water pistols are very popular and also water bombs - though these tiny balloons are a bit tricky to fill up so you might have to help.
As for sports equipment, make sure you pick something that your kid enjoys to play immensely. Do they want to be the next Michael Jordon? Then install a basketball hoop and help them practise shooting hoops. If you are particularly handy around the house, then you can install one yourself. Just make sure the court is standing clear of any windows.
If not basketball, then why not soccer? All you need is a good soccer ball, some pipes and a large net to create a goal. Sports are not only a favourite pastime; they are fun and beneficial to your child's health. They assist in improving hand-eye coordination and fitness. Being active is always a big plus.
But running around all day and playing in the water can get exhausting. Cold refreshments are key in these moments. Ice cream makers can come in handy at this time of the year and also snow cone machines.
However, if your kids want a quick fix, then go with the snow cone machine. They can watch the ice crush and spill out in a snowy waterfall. They find the process fascinating in their young minds and then they can pick which
snow cone syrup
flavouring they wanted.
To make the process more exciting, why not get your kids to pick two flavours?
There is bubble gum, strawberry, cherry and many more to choose from.
August 13, 2020
Hi guys!
Do you miss me?
I miss you.
I sat down the other day to try to catch up on some blogs I follow.... it said 1000+. I scrolled a bit until it froze on me and when it unfroze, I clicked "mark all as read".
It was overwhelming. Clicking that helped. Phew.
The winner of
Diana's giveaway
:
a Rafflecopter giveaway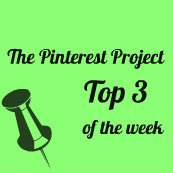 #1. Rays of Purple's no sew hair bow!
So much to do!
I'm exhausted 24/7. Our sleep habits are all crazy! Fin & Maddie don't end up falling asleep until about midnight. And poor baby O just kind of dozes in and out all night. He's still hardcore on Alaska time. And it's been hell trying to get him to sleep every night without his crib and his little mobile thing.
Plus he's teething. He's a hardcore teether. THREE at once!! Two bottom, one top. All popped through within days of each other.
Oh and he crawls!! He started to before we left Alaska but he's definitely gotten the hang of it now!
Where did my little baby go?!?!
Anyway so eventually I have lots of pictures to post and show you guys.
Took my bittles to the zoo with my BFF, Jenny G and her boys. They loved it and love her kids which is a huge deal to me because Jenn and I have been friends since 7th grade. It was amazing to finally be able to see her and catch up with her again.
So I hope you all are doing well. I miss you guys, I do. But I'm loving the family time and the sunshine and warm weather!
I'll be back soon.
P.S. you will most definitely want to come back here and read August 20th's post. Especially if you like
Shabby Apple.
July 23, 2020
My bad, guys. My bad.

Okay, for real... I have the cutest kids.
Welcome to Maddie's cafe.
She'll make you pizza rocks.
I hear they're delicious.

Speaking of rocks, Baby O was obsessed with them.
He swam in them, threw them, picked them up one by one and examined them, then dug in them.
Gotta let them explore the world around them.
He had fun, and a bath when we got home.... cuz, eww.
Cute, cute, cute.
And they even picked me some flowers. Sweet babies.
And the winners:
a Rafflecopter giveaway
I'll be emailing you guys in a bit, but if you see this before I email you feel free to shoot me a message at
[email protected]
CONGRATS!!!
June 18, 2020
Pizza and margaritas.
Spraying the hose at the kids
Soaking only Fin because Miss Maddie didn't want to get wet.


She did love laughing though.
Poor kiddo was soaked from head to toe
But he had a good time as well as the rest of us.
Love summer days that are actually not too terribly cold or rainy.
July 30, 2020
We woke up.
Bathed.
Got dressed.
It rained.
Went to the farmer's market.
Got some delicious veggies.
Then went to the thrift store.
Spent a grand total of $26!
(not pictured-two jump ropes and a nerf gun)

Ohhhhh the ideas I have for these! YAY!!!!

Then we headed to Joann's. YAY!
Still need a few more items but we got tired and came home.