As most people, I love a good debate. Just kidding, I'm so not a debater.
I mostly keep my opinions to myself because I've found myself stuck in endless debates a few too many times and I end up just walking away with a headache and a bit mad at whoever it was, so anyway....
Guns.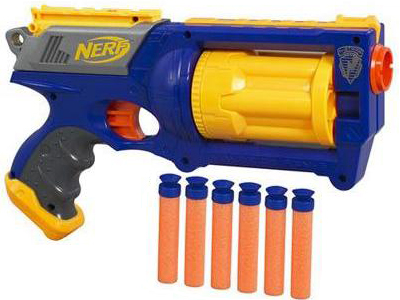 (Source: http://blogs.westword.com/latestword/2009/12/cu_bans_nerf_guns_heres_our_to.php)
Guns freak me out a bit. You hear so many horror stories and so many accidents that they just make me a bit nervous.
So not long ago,
I wish it was a bit longer ago than it actually was,
we had some friends at our house on a weekend like we usually do.
One of these friends has a permit to carry. Thankfully he's never
needed
it but it makes him feel safer so I don't question it. He's not my husband, so it's not really my business to ask.
Well, it became my business on this particular day...
Like I said, we usually have people over on weekends and this one was no different. The wives and kids hang out in the house while the men are in the garage/outside being all man-like and doing whatever it is that they do.
The night begins to wind down, Baby Owen's in bed
(this gives you a bit of a time frame on how recent this was)
and I'm sitting at the table with another wife and we hear this sound.... this very distinct sound.... (Being a military spouses and living ON a military base we KNOW this sound) so we walk outside to ask them oh so kindly
and by that I mean not so kindly
what had just happened....
They try to play it off like it was a bike backfiring. Liars. Those dirty stinking liars!
One of em finally admits that his gun that I wasn't aware he'd brought to my house had just gone off.
I was less than thrilled to hear this.
He swears he doesn't know what happened or how it happened, feels absolutely terrible about it and can see that he has greatly upset me. He apologizes of course and everyone assures me that it just went off accidentally and hit dirt and only dirt.
Needless to say he has not brought that back over here again, thankfully or he would be very much unwelcome at my house.
This was a bit of a sore subject for a good while around here.
Anyway, so for the longest time my husband has wanted a gun. I agreed and he swore to me it'd never be loaded and the ammo would be kept away from the actual gun itself and blah blah blah-all those things men say to try to reassure their wives.
But after this particular night, we agreed that looking into
gun safes was probably the best idea all around
. Meaning otherwise I would not so politely decline his request for a gun.
Does your husband own a gun? Do you yourself own a gun? How do you feel about them?