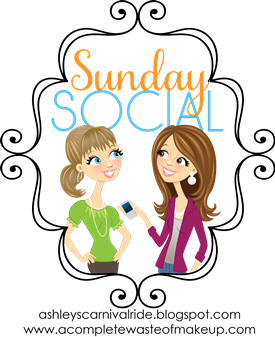 Linking up with Neely and Ashley for Sunday Social!!

1. What do you miss most about being a kid?

The lack of responsibility.
Seriously, being a grown up is hard work sometimes.

2. Did you have a nickname growing up? What was it?

Am.
Lil V. (apparently being a virgin in high school gets you a dumb nickname)

3. What was your favorite thing to do at recess?Sit and talk with my friends!

4. What did you want to be when you grew up?
EVERYTHING!
A teacher.
A journalist.
An English teacher.
A nurse.
A pediatrician.

5. What was your favorite toy?
Good gosh, I don't even remember that was a long time ago.
3 kids ago.
A crazy husband ago.
shewie, my brain doesn't think that far back.

6. What is the funniest thing you did as a kid that your parents mom still remind you about?Ha. Oh gosh, I'm not sure if I want to tell this story...
When we were younger, my sister and I decided to go play in my grandmother's backyard.
We wandered and wandered until we came to this little pond like thing.
It was SOOOOO green and SOOOO pretty.
We played and played and had a grande ole time.
Once we returned we were informed through fits of laughter that what we had discovered was sewer pipage.....