Hey y'all! I am taking over Amber's blog and figured I would talk about my newest obsession and I am figuring not many of you have heard of it. First, I will give you a background of me! I am new to the blogging community and I LOVE it. I am a work at home mom, married with two little boys-ages 2 and 1. And yes, my life gets crazy sometimes! I am an Independent Designer with a company called Origami Owl. The name can totally throw people off, I get some strange looks when I say what I do. :D This company has only been around for 2 years, and it was started by a 14 year old girl! I still can't believe that! From what I hear she loves owls, and her mom had a ton of origami artwork around the house...so Origami Owl was born! I seriously get compliments on my locket each and every time I go out! My personal locket has a two little boys-one with an August birthstone and one with a December birthstone(for my babies), one June birthstone heart(me), one February birthstone heart(my hubby), and the infinity sign with crystals. I do have a plate on mine that says "Blessed". I love being able to tell people about this, because it is so new that I not only get to explain my locket, but get others excited about Origami Owl as well! So here is how things work...

Step 1: Choose Your Origami Owl Charms
Charm are all $5.

There are so many options-hobbies, family, birthstones, initials, music, occupations, faith, love, causes...I mean really, we are talking endless possibilities!
Step 2: Choose an Origami Owl Living Locket
Locket prices ranges from $20-$38




Choices are gold, rose gold, or silver




Choose sizes. Either medium (about the size of a nickel inside) or large (about the size of a quarter). Medium lockets can hold 4-7 charms. Large lockets can hold 8-12 charms. This really depends on the charms you choose, they relatively are all the same size, but some are a tad larger than others.




You can get them with crystals going around the outer corners, or without.




These open JUST like a locket. That is how you get your charms in and out if you ever wanted to switch.



Step 3: Choose your chain
Chain prices start at $8

Available in rose gold, gold and silver

Sizes are 16,16-18, 18-20, 24-26, 30, and 32 inch options. We also have extenders.

Classic ball chains, rolo chains, flat oval links, faceted ball chain
Step 4: Add Optional Plates
Prices begin at $7

Plates can give you the opportunity to explain your necklace with one word. Or they give you to add a little something to your necklace that just is a perfect background.

Choose from words such as faith, love, blessed, mom, always...

Available in small, medium and large
Step 5: Add Optional Dangles
Prices start at $6

Add dangles to your locket to add more bling, or character.
Here are some examples of some lockets that have been made!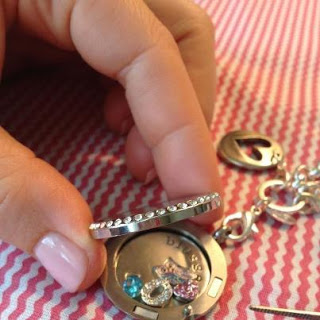 This is how the locket opens and charms can be taken out, or more can be added.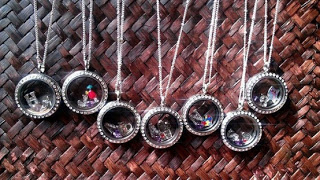 The bottom picture a Bride-to-be made them as Bridesmaids gifts! I thought that was a really good idea, nothing like a completely personalized gift for those that are close to you!