GUYS!!!
Happy Monday!
I know it feels so wrong to say that to you guys, because I bet Mondays blow for you!
Mondays don't bother me though.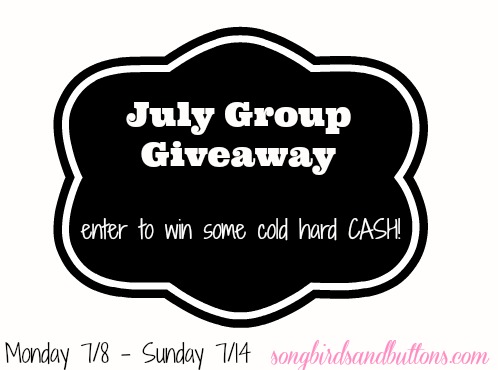 So let's get on to how my weekend was.
We attended a birthday party. (you should know that at first I typed, "bitchday". I don't even know).
I feel like every weekend for the past ever has been "attended a birthday party".
I'm burnt out on partying. And it's getting closer to time for MY kids' birthdays!
Speaking of, did I tell you that David's got Fin an electric guitar?! It's awesome looking! Fin's going to love it so much! And we have a few people lined up to teach him to play, so even better! We're going to look into putting him in music lessons as well!
On Saturday, we decided to get out of the house and head to Cracker Barrel for dinner.
When we ordered our waters, the waitress says, "You know kids meals come with drinks.... in case you wanna just get them something different??" I laughed and said no and that water was fine.
But the more I thought about it, I know she didn't mean it rudely but it kind of bothered me. I ordered water for them to drink because that's what we drink! We rarely drink anything else. (except me and coffee). My kids very very rarely have soda! When we eat out, it's juice boxes or milk or water.
Anyway, this lady at the table beside us kept turning in her seat to see Owen. I mean, turning completely around to just stare at him. She later asked me how old he was and then told me he was absolutely gorgeous. I thanked her and laughed at his hamness.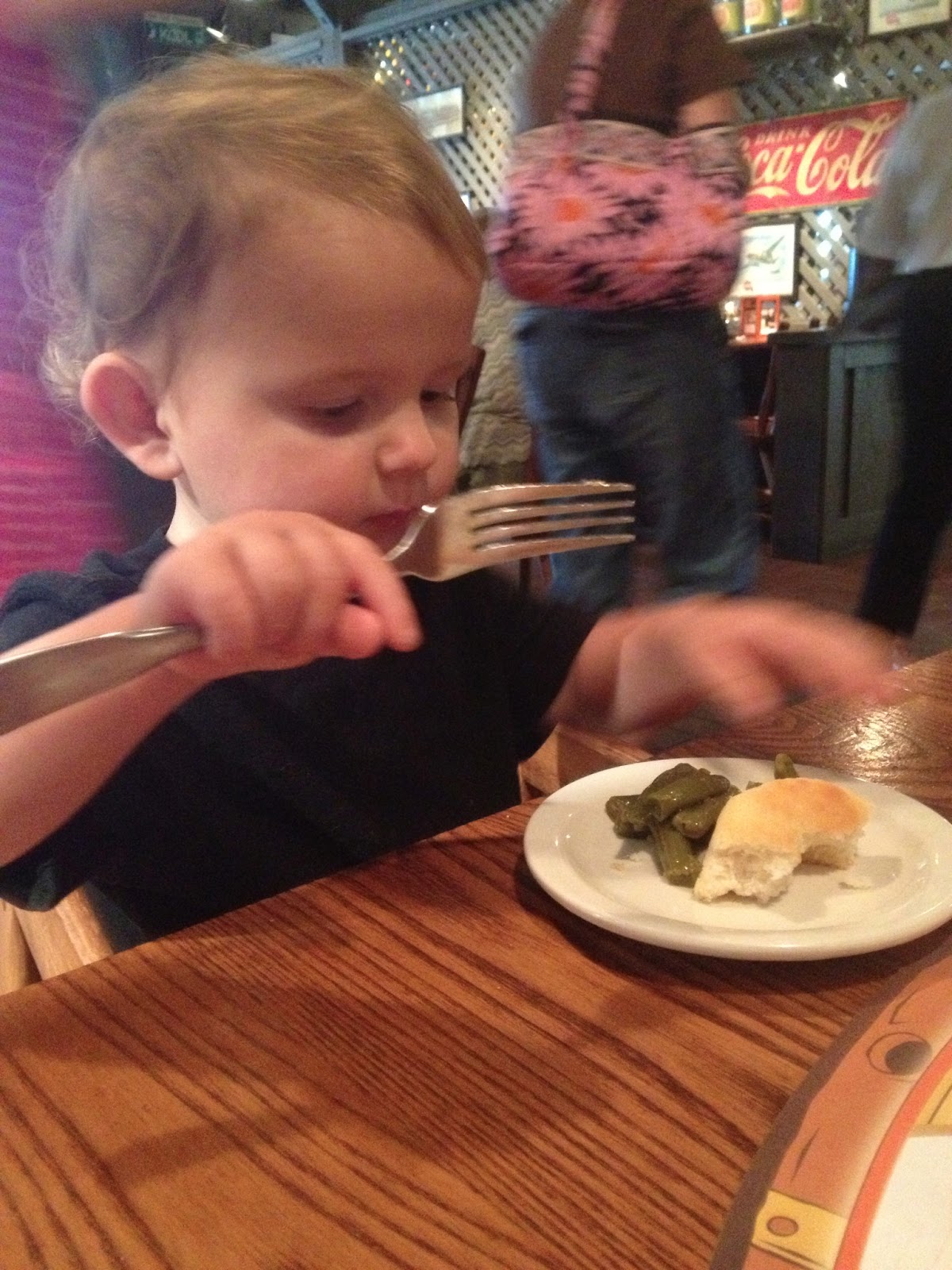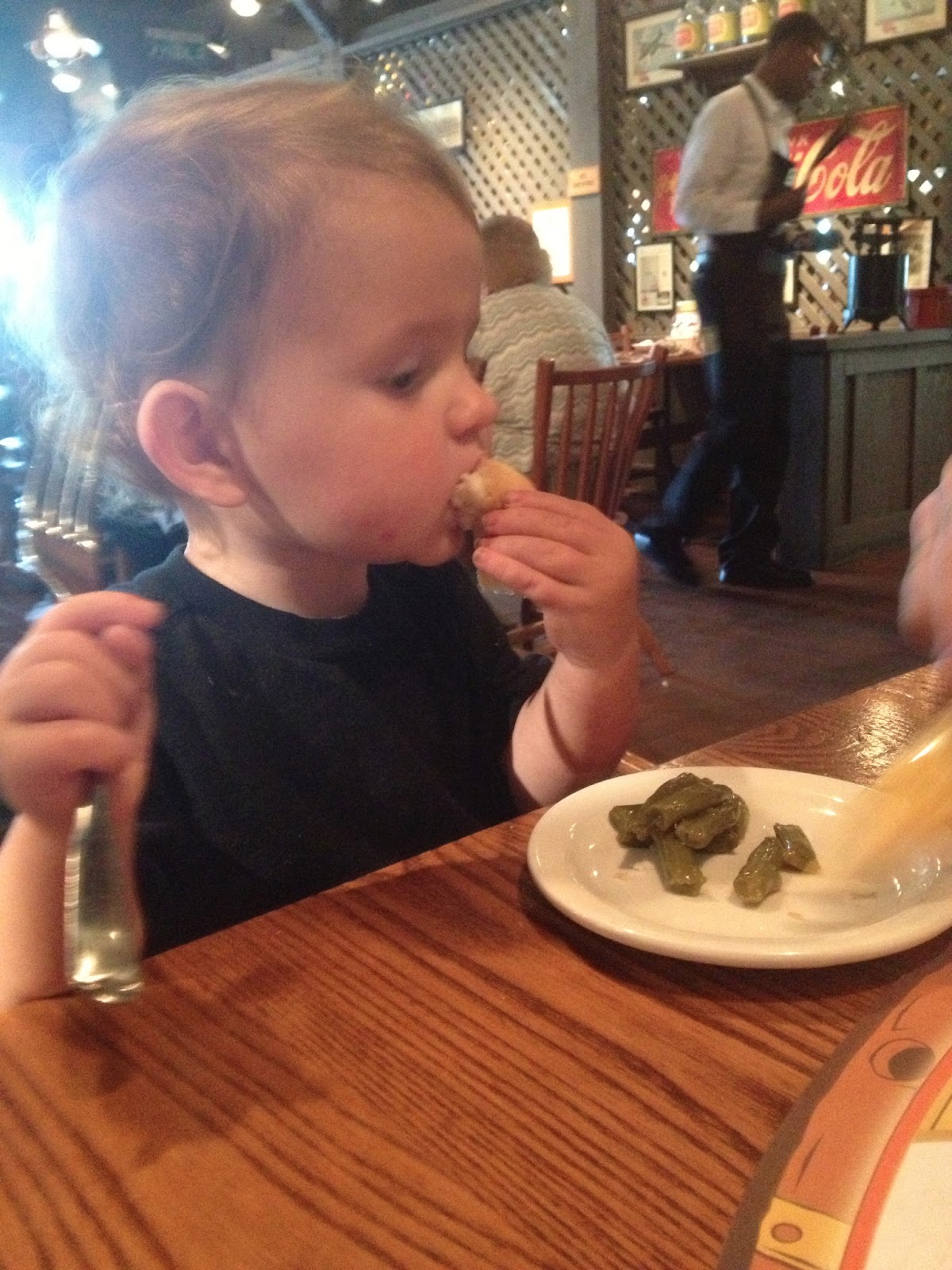 Then..... welcome to what my life looks like with Owen.

It's always a "let's smoosh mom" day. I love it. It's hilarious!

He also likes to grab my nose and just pull my face every which way and then laugh hysterically because I play along and eat his little hand as he does it. Something about boys. They're crazy and rough but just the sweetest little things!

He'll just randomly walk up to me, lay his head on me and say "mmmmm" which means he's loving me. It's sweet.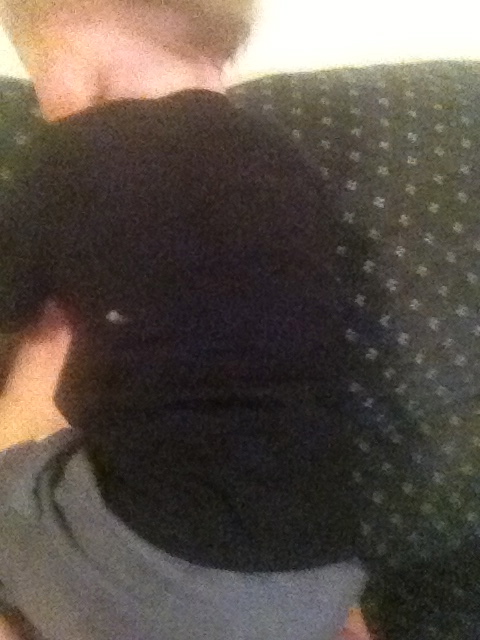 Bathtime. He was so proud that he hung up all of those little letters by himself. It was entertaining until he decided to take his cup and dump it on the poor curious kitty that had come into the bathroom to inspect things.
Pictures from the birthday party:
He made a little friend about his age! They were cute together until she tried to touch his face. Her mom said she was learning facial parts and that's probably why, but Owen wasn't too pleased with her just grabbing at his face. It was a quick lived friendship.
Once the night progressed, he got tired and started carrying a chair around with him to plop down wherever I stopped. It was seriously just cute. At one point in the night, he had a little toy sword and was chasing after the older kids. Owen will have no issues making friends whatsoever!
Sunday was a day of rest.
David did some video gaming, I did some interneting and cleaning.
Maddie did some "homework" and Fin read some books and did some math.
We planned to knock something off of our Summer Bucket List but this weather just didn't agree with us. Shame on me for making our summer bucket list summery.
Oh and we got Maddie some new rubberbands & headbands since her hair is thicker than it used to be. I asked her to go try one on for me and I about melted when she came out wearing it like this!
She put it on automatically like I wear mine! It was THE CUTEST!!!
Then Miss Maddie helped me make some lunch!
Oh and before you go, check out
Kendall's
awesome group giveaway!!
There's also a great one on
Jessica
's blog that you won't wanna miss!
a Rafflecopter giveaway
I hope you guys had a fabulous weekend!!
This week is going to be a great one! I just know it!!
Oh and click
here
to see where I'm linking up!