Ever forget your wallet at home?
Yup.
Ever been in the checkout line without your bank card?
Yup.
Ever run to the store just for some milk and random little things only to realize you didn't have your wallet?
Yup.
I recently had the chance to review a card from
Card.com
,

They loaded it up with $25 and sent it my way.
I decided to keep it in the car as "just in case" money.
About a week and a half later, I was in need of that card.
I had just dropped Fin and Maddie off at school and headed to Walmart to get a few things.
I get there and realize I totally forgot my wallet at home. I had my ID with me but had taken my wallet out of my purse to hand something to David and totally forgot all about it.
CRAP! Walmart is like 12 miles from me (the one I go to anyway) - I didn't wanna make the trip back and risk running out of time and being late to pick Maddie up and I didn't wanna waste the gas. Then I remembered I'd put my
Card.com
card in my glovebox just for instances like this.
YAY!!
I activated it right there in the parking lot, gave James Dean a big ole thank you kiss and went about my shopping.
HUGE sigh of relief!
I chose the James Dean card because he's quite dreamy, don't ya think?!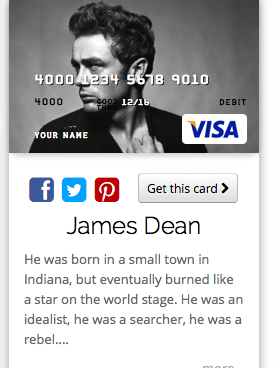 Card.com is such an easy site to maneuver through. You can set up direct deposit, or direct deposit onto your card from Paypal or your bank account or even any western union location.
They allow you to withdraw from ATMs, check your balance from ATMs, and pick your own card look from their
gallery
.

I think the BEST use for this card (other than "in case of emergency") would be to give to your kids! Mine are a bit too young but once their older, this would be PERFECT for them! Load their allowance onto it and wham bam there you go! That way they're not carrying cash around with them and I think it'd help them learn to keep track of their spending.
Their
FAQ page
answers just about every question imaginable.
They have their phone number listed right there at the bottom of every page as well as their
Facebook
,
Twitter
,
Pinterest
and
Blog
. I love how easy it is to get a hold of them if need be.
They have no hidden fees-they list every fee you could think of on their
Fee page
so you know exactly what you'll pay for and what you won't.
Seriously, they've thought of everything and I can't thank them enough for saving my butt that day at Walmart!
I highly suggest you check them out and I definitely plan on investing in a few more cards once the kids are older!
---------------------------------------------------------------------------------------------------------------

I was provided a card of my own for this review. All opinions are 100% my own.