Hi y'all. My name is Rachel and I am so excited to be one of Amber's sponsors this month!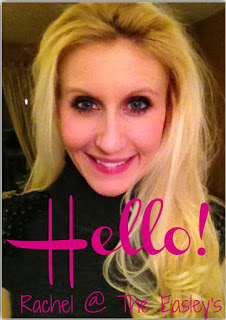 I'm so glad that I am on her sidebar because I love her blog so much. Let me tell you a little bit about myself...
I blog over at
The Easley's
. I'm married to a great guy and have a cute little 16 month old boy. We live in Nashville. We're actually from there. I'm a stay at home mom and a part time personal trainer at a private gym. I'm an avid runner, I love DIY projects, cooking, and trying out new restaurants in our city. We like to eat! We have one fur baby. A little cat named Phoebe.
I started blogging, well actually my husband started this blog right after we got married to keep friends and family( especially out of towners )up to date on our life. I quickly took over and made it my little space on the www. I enjoy blogging about my day to day activities, DIY projects that I try to do at least a few times a month, things I enjoy, and of course my husband and baby...there is a lot about him on here! He is just so cute that I can't help but take tons of pictures of him! I do like to include lots of pictures in each of my posts. I think it makes reading about me/my life more fun if you can actually see what I am doing. And I just like to take pictures!
And just because I love giveaways, I am including one just for y'all. Enjoy!