Today I could use a good vent so I thought I'd link up with my friend,
Melissa
for her Things I Don't Love Thursday! Yay!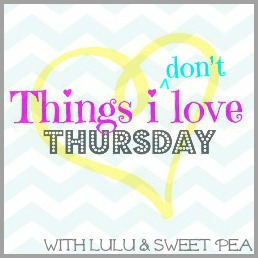 1. Identity theft. -enough said. Oh and now that I've updated my address on my credit report, guess who's getting collection notice letters for stuff that I have NO idea what it is?! Hooray!
2. When people say, "I think tattoos are tacky". I just wanna say, "Well I think you showing that camel toe in those shorts is tacky!" or "your sock bun is tacky"
(nothing against sock buns, I wear them but I needed another example)
. Etc etc. But nope, I keep my mouth shut.

3. I also hate when people talk about how messed up looking some tattoo is going to be when you're 80..... umm, hello... obviously if I've made it to be 80 or higher, I'm not going to give a rats ass what my tattoos will look like! Lots of other things will be flabby/flappy at that point too and I'm pretty sure those won't really concern me either, but the fact that I (hopefully) have grandkids and maybe even great grandkids that I'll hopefully be healthy enough to play with. Or I'll be concerned about where I am when I wake up if I take a less healthy detour when I grow older. Seriously, wrinkly tattoos will be the LEAST of my concern and honestly I think they'll just show that I was a pretty cool young person.
4. The fact that my mail comes around 5:45pm. That's just torture! That's seriously like ALL day of having to wait and hope for good mail.
5. Allergies. My sinuses are going crazy lately. I think it's starting to calm down a bit but PHEW. For a few days (like 2 weeks) sinus pills were my B.F.F. (no offense, Jenny G.)
So head over to
Melissa's blog
to read what others are not loving this Thursday!