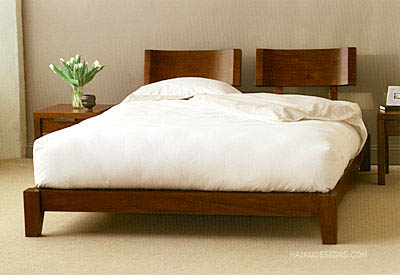 (source: http://www.haikudesigns.com/europa-platform-beds.htm)
You know what drives me crazy? My bedding! I kid you not, it drives me crazy! I bought it last year when David was in Afghanistan. I completely loved it. This was actually the second bedding I had bought within the year because the first one, eh, well I just didn't love it.
This second one though, it was lovely, fit my color scheme, cozy, etc etc.
And then I washed it.
Poor thing never stood a chance against my washing machine.
I mean, I pulled it from its little bag and put it in the washer before even using it and it came out of my washer with a giant hole in it.
Imagine my disappointment.
My brand new comforter.
We still use it.
We just keep it flipped to where the hole is on top after one time it was flipped the other way and my toe found it's way inside and made the hole bigger. Oops.
So we keep it flipped to where the hole is on top but every time I look at it, I just get so mad about it.
So I've been browsing for a new one.
We won't get it anytime soon of course given our current financial situation, but let me just say that I am so in love with the Candlewick Bedspread from
damart
that I've seen.
They are all SO pretty and would just look amazing in my bedroom and on my bed.
Do these not just look so cozy? You know I'm right and you know that you kind of want one as well!
I actually love that dusky pink one, but I really do not think David would approve of it. It would not be "manly" enough for him. Ha ha.
So who wants to donate to the "Amber's washer ate her last pretty bedding" fund. *wink*