Okay, for real... mom life is rough. Especially with kids in school. I thought life got easier once they went off to school but Maddie's only on 1/2 day and Tuesday is early day for Fin & Maddie. It's weird. My schedule was so thrown off, I had no idea what to do with my days or when to run errands. Do I rush to do them after dropping the kids off and hope to be done in time to pick up Maddie?! Definitely not doing anything major on Tuesdays. What is Early Release Day all about anyway?! I just don't get that.
Today I'm going to share with you some tips to help you (or at least how I helped ME) get into that Back to School routine.
I wake up first. I drink coffee, I try to manage about 1/2 an hour to myself so that I'm awake and ready to go before I even wake up kids. (7am)
Fin wakes up at 7:30 and Maddie drags herself out of bed around the same time (She hears his alarm).
They immediately get dressed before doing anything else.
Then we do breakfast at the kitchen table to make sure they eat and don't get all distracted with toys or cartoons.
Come about 8am they're done eating and this is when they brush their teeth and hair and then I rebrush and fix Maddie's hair. This is followed by shoes and cartoon watching for a few minutes.
I then run upstairs and wake Owen up around 8:20. I wake him up last minute! I change his bum, change him into clothes, put some shoes on him and give him a little snack.
Then we load up the car and head to school.
If I don't have any errands to run, I come home, feed Owen, we play a bit and then pick up Maddie (She only goes 1/2 days for PreK).
Owen naps, Maddie & I eat lunch. I clean up the house a bit while she plays or colors or watches some cartoons and then we're off to pick up Fin from school. Once we're back from school, it's time for snacks and homework. All three of the kids sit at the table and eat snacks while Fin & Maddie do homework. I'll usually bust out my laptop and bring it to the table to sit with them- this is where I work on blog stuff. After snacks and homework, I start dinner, they clean up their messes and then they're off to do some chores or play.
Dinner is followed by clean up, a bit of play time, bath time and then a movie and a snack for Fin & Maddie.
Bedtime immediately follows Owen's bath.
For special days at school or during the week/weekends, I have a calendar.
I have 3 colored markers.
Maddie picked the black marker.
Fin picked blue.
Everything else is red.
This calendar has been a life saver! The kids are obsessed with it and remind me of things on it that are coming up. I mark off the day each night so that when they wake up, they know exactly what day it is.
It includes snack days, Fin's PE days, birthdays, weekend plans, our Friday night or Saturday adventures (a different fun thing each weekend- picked by the kids).
Now that I've told you a bit about my daily routine, let me talk to you about dinners.
Some nights I make full blown meals, some nights I just need quicker/easier meals.
Most school nights involve the quicker/easier meals.
Thanks to
Pillsbury
, I have a few easy recipes to share with you today!
I recently made these
Grands! Taco Melts
with whole wheat Pillsbury biscuits and oh my goodness, good!
SO quick and SO easy!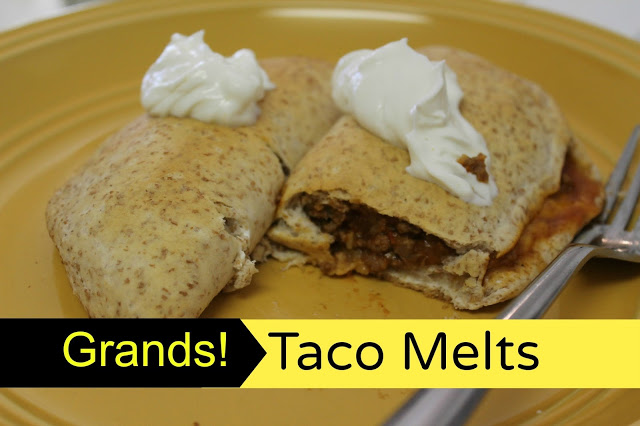 These were SO filling! I mean, SO filling! I was a bit worried that it wouldn't be enough to feed all of us, but we ended up with one leftover because they were that filling! Make them! I seriously recommend it!
Here are a few other ideas for you thanks to
Pillsbury
:
Easy Grands!
Chicken Pot Pie
, Grands!
Chicken Pot Pie Puffs
, Grands!
Grilled Cheese Sandwiches
, Grands!
Mini Pizzas
, and Grands!
Unsloppy Joes
! I plan to try the Unsloppy Joes next time David won't be home for dinner! (He's not a sloppy joe fan)
You should totally download the
Pillsbury recipe booklet
for yourself!! Which would you like to try the most?
They all look delicious to me!
I was selected for this opportunity as a member of Clever Girls Collective. The content and opinions expressed here are all my own and are not indicative of the opinions or positions of General Mills. Compensation was provided by General Mills via Clever Girls Collective.