This is a sponsored post written by me on behalf of Graco.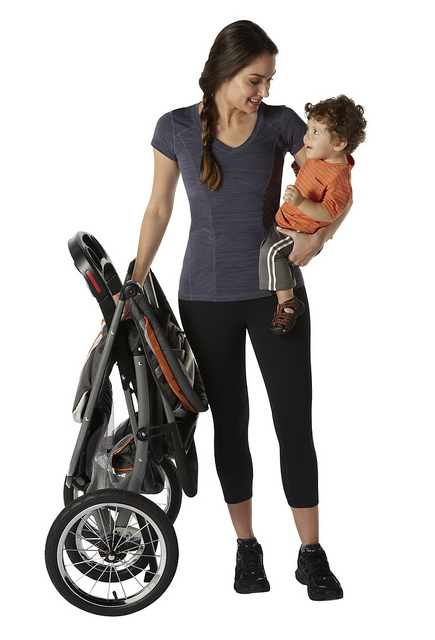 Last Thursday I headed to the outskirts of Atlanta, 2.5 hours away to meet up with some wonderful ladies to discuss
Graco's New Jogger
. Let me just start off by telling you that I am completely 100% in love with this
stroller
. It is amazing. Owen loves it, I love it. David loves it (yup he's used it as well!)
There are other colors available: Tangerine, Tidalwave, Grapeade-all are just as gorgeous as this one and are very unisex.
This stroller will last me for SO long! It goes up to 50 pounds! Maddie is barely in her 40s at almost 5 years old!!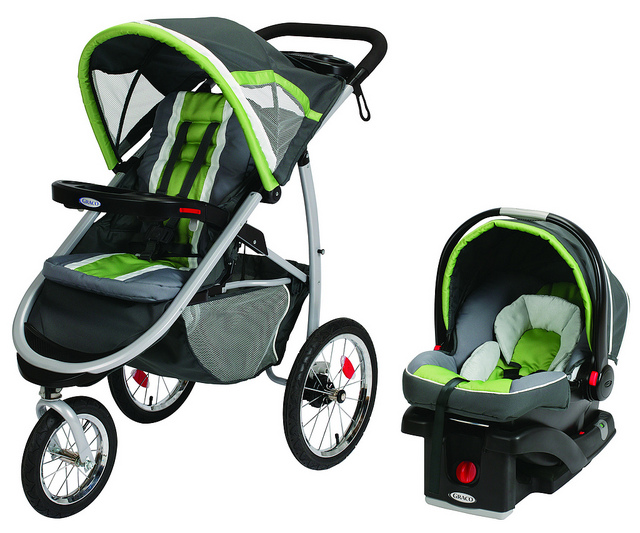 Here are some pictures (taken from Instagram) of the event and some of the ladies.
This stroller was so simple to put together straight out of the box, I didn't even need David's help.
I can fold it and carry it around one handed while holding Owen on my hip.
It fits through doorways, it's easy to maneuver, when folded and standing up (thanks to it's awesome kick stand) it stores easily and out of the way. I rarely have to close mine-I just keep it set up in the garage and use it just about daily on walks to get Fin from school or just walks to the park and back.
This fall when Miss Maddie heads off to preschool as well as Fin to first grade (I can not believe I just said that! Time really does fly!) I see Mr. Owen and I going on many many jogs around the neighbors and you can bet we'll be jogging to pick up the older to from school!
Some selling points this jogger includes:
It connects with a Graco SnugRide Click Connect™ 35 Infant Car Seat securely through a one-step attachment.
While jogging, the baby is comfortable in a multi-position reclining seat, convertible 3 or 5-point harness and air filled rubber tires for a smooth ride on any surface-(we've tested this)!
It is beyond easy to use with a one-second fold, its auto lock and its self-standing when folded kickstand!
The front swivel wheel is lockable offering an easy transition from strolling to jogging
It also incudes an extra-large storage basket, trays for parents and baby, a smartphone cradle (in which my Iphone 4s in case fits beautifully) and even reflectors for low-light visibility for evening or early morning use.
Some extra benefits include:
Air-filled rubber tires provide suspension for a smooth ride on any surface
Locking front swivel wheel offers an easy transition from daily strolling to jogging
Reflectors for added low-light visibility
Padded, multi-position reclining seat
Child's tray with 2 cup holders & snack tray completely removes for easy cleaning
Graco's Click Connect technology allows for a one-step secure infant car seat to stroller connection
Deluxe parent's tray with a 2-way smartphone holder, covered storage & 2 deep cup holders
As you can see, Owen is pretty darn comfortable.
CLICK CONNECT TECHNOLOGY: Accepts all Graco Click Connect™ Infant Car Seats through a secure one-step attachment.
FASTACTION FOLD: It's easy to use with a one-second, single step FastAction Fold plus it automatically locks and is self-standing when folded.
I came across a woman at Starbucks the other day that stopped me to ask me what kind of stroller it was. I feel sorry for her because I rambled on for at least 15 minutes about how awesome the stroller was and why she should buy it! And notice, I said I was in Starbucks--it fits through doors!
This is truly, hands down the best
stroller
I have ever owned. I would recommend it to EVERYONE, absolutely everyone.
And from what I understood, you can expect a double jogger in the near future!!
I am very grateful that I was chosen to be part of this experience! We are completely 100% in love with our jogger. Owen has no complaints either!
Graco's NEW jogger is the ultimate crossover stroller, combining all the comfort and convenience features of a traditional stroller (FastAction Fold and Click Connect Technology) with performance and maneuverability of an all-terrain jogger.
As an added bonus, Graco's innovative one-second, one-hand FastAction™ fold automatically locks and is self-standing.
This post is sponsored by the Graco.