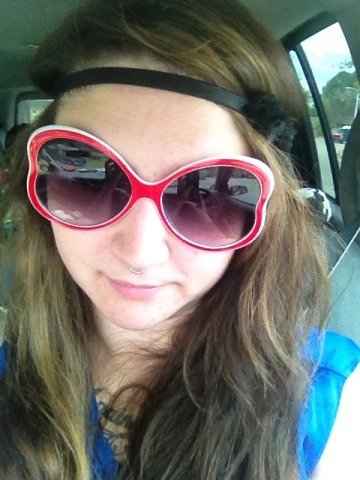 I had awesome hair this day. Like FOR REAL!

Happy Monday! Just kidding, I know most of you probably hate Monday.
This picture should make it suck less though because well, it's just funny.
He's got a bit of an Easter hangover still.
Mondays for me though are nice because they get things back to normal around here. Don't get me wrong, I love our weekends together but I also love having a normal schedule. Plus Fin's spring break is officially over and he's on his way back to school today after a week off.
It was a nice week, I think he had a decent spring break. It rained and got all gloom and doom out Wednesday, Thursday and some Friday but thankfully the sun shined bright all weekend.
His friend, Cole came over and stayed the day and night with us Saturday. I'm not sure who was more excited, Fin or Cole!
So Saturday was a jam packed day of kid fun! I mean lego building, video game playing, sprinkler fun, soccer at the giant field, park trip, hide and seek and movie nights.
Sunday was a day of pancakes. The Fin, Maddie and Cole pancakes were as big of a hit as the Fin and Maddie pancakes that I made the other day. (If you follow me on
Instagram
or like my
facebook page
you probably saw them).
And then Sunday afternoon was a bit of a lazy/recoop kind of day.
I mostly caught up on laundry and got the kids ready for normal schedule again.
We're getting pretty excited about summer vacation though because spring break was a blast!
It was just nice having Fin home. He usually misses out on such random little things.
And David had a 4 day so he was home Friday and today so that's been nice too. Weird, but nice. So really Tuesday will be more normal like.
And as usual, here's a bit of a recap of last week on the blog:
Week 14 of 52 weeks of kindness-
here
.
I showed you an EASY PEASY way to make your deviled eggs look neater
here
.
I showed you what's in my bag
here
.
And I did a review of a dress from
eShakti
and pretended I was a fashion blogger over
here
.
Oh and our April fool's day and Easter recap can be found
here
. Includes pictures of my cute kids ;)
Click
here
to see where I'm linking up.