*warning: my thighs suck*
The other day I was just in a mood.
I blame that God awful monthly lady friend. Throw in the fact that David was gone, the kids were going crazy (almost bedtime hyperness), Owen had some teething poos going on and the dogs had just heard a motorcycle drive by so they were frantic.
So what's a girl to do?!
Pet the dogs, tell them it's not him while rounding up a diaper and the wipes, change the baby, put him to bed, turn on a cartoon for the older two, throw on some lipgloss and those new shoes she just scored from target for $14.98 using a gift card she'd won and her new on clearance barely $4 shades and head out back to attempt some outfit pictures.
Now a few of you might remember my mini series about loving your mom bod a while back?!
(
Here
if you're curious)
((I highly recommend you read them. I think they're pretty fabulous))
What you don't know (because I avoid talking about it) is that I really hate my mom bod.
I'm far from perfect and there are definitely days that I just don't love my body.
This day was one of them.
My hair looked pretty for being day old dirty hair but other than that I was just arg. (Let's just pretend that that's a word describing my mood because in my head it does/did)
Don't get me wrong, I am amazed daily by my body and all that it's done/been through. It's grown three very wonderful and gorgeous children and I would NEVER change that. But the three c-sections has definitely taken it's toll on my body and therefore my emotions. There are days that I think that I look good until I see a picture of me or what I look like from a certain angle and I just get sad. I get bummed. I took my good body days for granted, I really did.
(that's meant to be a joke, people)
But in reality, I do know that I will eventually have my body back and am working towards getting my body back. MY body. The body that makes me happy. The body that's grown three children but looks better than that. It takes time and a lot of dedication (which I lack) but in all reality none of that stops me from wearing my clothes. The clothes that usually make me feel good. Even though I probably shouldn't wear some of the stuff I wear, I think I do pretty decently for dressing for my CURRENT body.
Except this shirt.
In the majority of the pictures it made me look VERY pregnant. Damn shirt.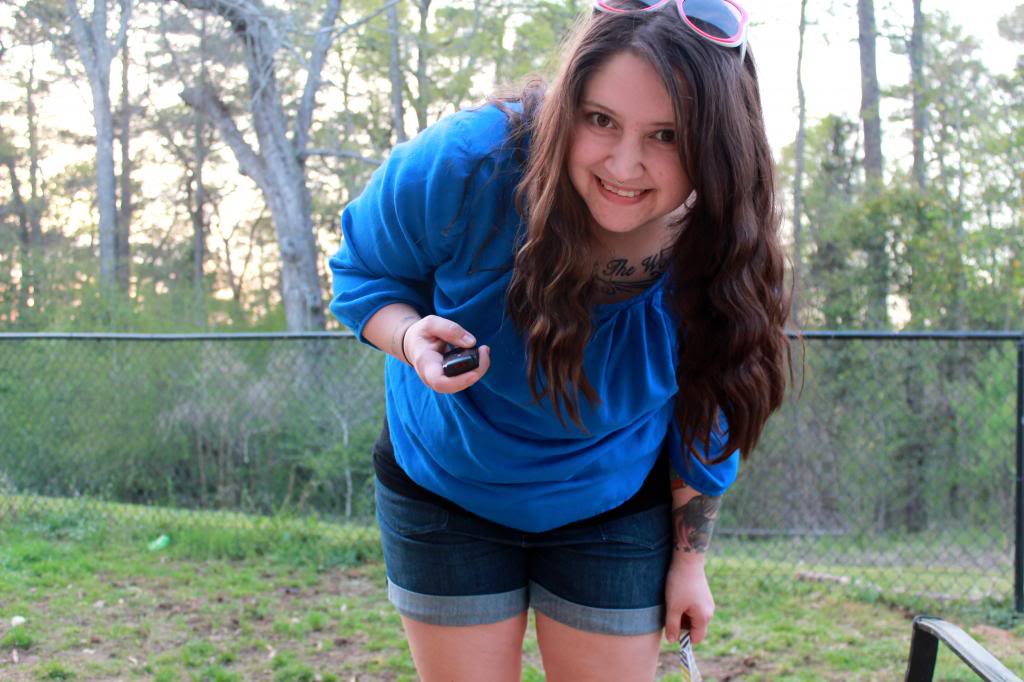 I crack myself at these fashion/outfit posts. I really do.
Aside from the fact that my yard is muddy and I was half sinking in it in these shoes, I can't pose, I don't know what to do with myself, I mean, where do I look, what do I do with my hands?!
This is one of those posts that truly has no point and I'm honestly not sure if it makes any sense but I feel better after having posted it so thanks.