If you're anything like me, you may have trouble actually giving out a list of what you want for Christmas. I can never think of anything when I'm put on the spot like that and I never really want people to spend money on me, especially a lot of money! I get super thankful when someone buys my coffee for crying out loud and that's $5, people!
So I thought I'd put together a little gift guide of a few different things I'd been drooling over. Maybe it'll give you a few ideas for your own list!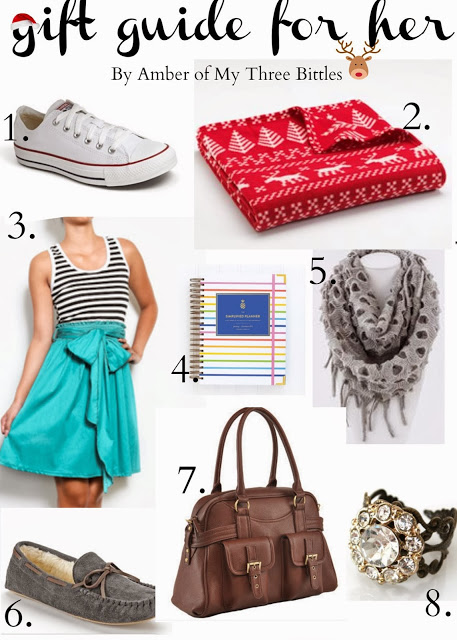 1.
These shoes
. I'm so in love with them. I see so many people pairing them so many different ways that I just drool each time.
2.
This blanket
. The throw blanket for the living room currently is actually one of David's random army blankets and it drives me batty! I want a real throw for the living room. This little Holiday one is just too cute. I'd get excited to use it every year like I do my Christmas coffee cups.
3. This
dress
from Country Couture. I just love it so much! I love that it's a dress and not a skirt, it's just adorable and I think every girl needs one in her closet. Me included!
4. A new planner.
This one by Emily Ley
is just GORGEOUS!! Anyone wanna order it for me?! Pretty please with sugar on top? A cherry? But seriously though, this planner does it all! I highly suggest you click and watch the video about it, you will want to order a million for everyone you know! It does it all! And it's so pretty!
5.
Scarves
. Hello, scarves are always a great accessory and this one (again from Country Couture) is no exception! The infinity scarves are dreamy. And there is a great variety of colors to choose from. I love the gray, the rust, the brown and the ivory/gold the best.
6.
House shoes
. I constantly have to sweep my kitchen. Between the dog playing outside and the kids playing outside, they all track in mud and leaves and dirt and I HATE stepping on it. I need some of these in my life to not only keep my feet warm for the days that Bo insists on spending 30 minutes outside doing his business and just messing around and for the moments that I step in mud barefoot. Someone save my poor feet!
7. A fancy camera bag. Like
this one
. I would pretty much die if I got a fancy camera bag. I am so in love with this Missy-chocolate one from
Jo totes
.
8.
This ring
from
Glitz and Love
etsy shop. Oh my goodness, it's just SO so pretty along with absolutely everything else in this shop!
So tell me, did my list help you?
What's your #1 most wished for gift this year?