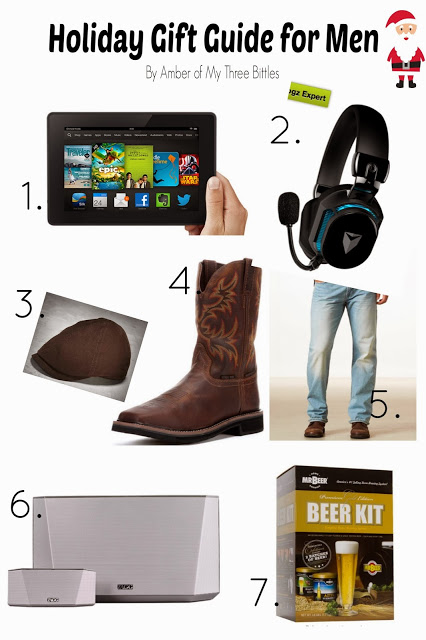 1/2/3/4/5/6/7
1. A
kindle fire
. If your husband is anything like mine, he often stakes claim on your things.... my kindle fire and now just become, "The kindle". Instead of him saying, "where's your kindle?" he now says, "Where's the kindle?" See the difference there?! We now share it. I'm not a big fan of sharing the things that are JUST MINE so he needs to get himself one. Any man would love it, read, look up stuff, play games, use it for documents, email, etc etc. It's amazing.
2. Caliber Axiom Universal
Gaming Headphones
with Mic. Do you have a gamer in your life? David is a big gamer and always yells at the T.V. It's pretty entertaining really but we both would like it a ton better if only HE heard the things the other gamers were saying/yelling and he'd like to be able to talk back. Especially on like Call of Duty to yell at the person he's currently spectating to look left. Ya know?! Yes. Good investment.
3. Hats. Just about every man out there loves a good hat. David loves
this one
. It's his favorite style other than a beanie and for only $20 that's not too bad.
4.
Boots
. *sigh* Since he's a motorcycle rider his boots get worn out pretty fast so I know he'd love a pair of these or anything like
these
.
5.
Jeans
. Oh my goodness, David goes through jeans like it's nobody's business. FOR REAL! He's come to expect a new pair for his birthday & Christmas because they last about 6 ish months for him and his birthday's in June.
6.
ZAGG Origin
** 2-in-1 Bluetooth Speaker. Who doesn't love blasting music while cleaning or thinking or anything?! David listens to it when he cooks, when he sleeps, when he's outside working on stuff, etc etc. I'd love to get him something like this to make it play louder than just his phone can.
7. A
beer making kit
. Because that would just be pretty freakin' awesome.
And now for a few stocking stuffer ideas: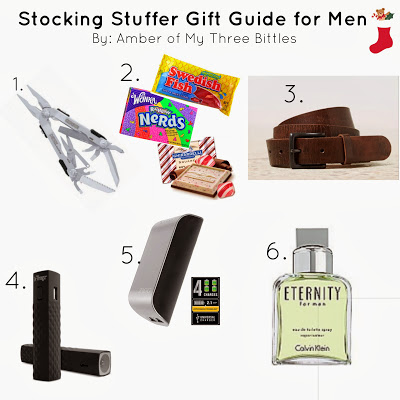 1. A
Gerber
multi-tool. These things are seriously AMAZING! David owns like 2 or 3 of them but they're all pretty old. These come in handy for anyone (not just men) because they're SO handy.
2. Candy. Enough said!
3. A
new belt
. Between David and the dog getting a hold of them it seems like he goes through belts as often as he goes through pants. Plus it really is just nice for men to have a variety of belts. Mix and match.
4. A
Golite battery/flashlight
**: Hello, don't you just hate it when they're out and about and are all like, "phone's almost dead!"- well this is small enough that they can take it with them + it's also a flashlight! Major win! And no more excuses for their "dead phones".
5. A
ZAGGsparq
**: I actually have one of these for myself. It's AMAZINGLY handy. The one I have holds 2 charges, this one holds 4. David takes this with him when he knows he'll be at work overnight, out in the field for a while or even out at a game night or out with friends so he doesn't risk a dead phone. Seriously, this thing plugs into the wall to charge itself, throw it in your bag and call it a day. David's even carried it in his pocket but I talked earlier about how I don't love to share the things that are mine so this is on the list.
Hope this helped give you a few ideas for the men in your life!
**Also, you should know that
ZAGG
is having a wicked killer
Black Friday
and
Cyber Monday
sale!
On
Black Friday
they are having a FLASH SALE! Every hour for 24 hours a unique
ZAGG.com
product will be discounted between 40% (for keyboards) and 60%!
On
Cyber Monday
keyboards will be 20% off and
EVERYTHING
else will be 50% off! Cyber Monday is also lasting Monday
AND
Tuesday!
You seriously don't want to miss those sales! Especially if you have a technological person to shop for!!