*sigh*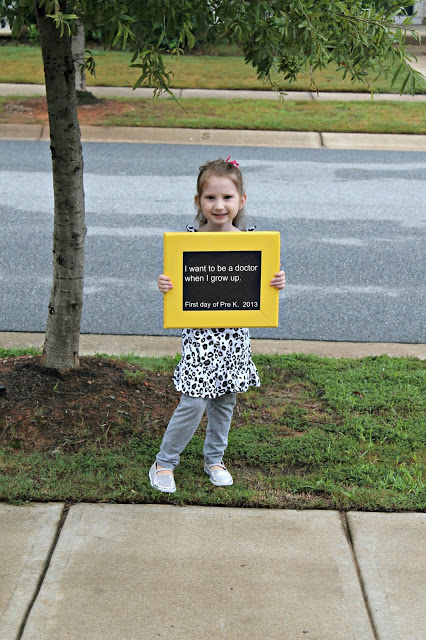 See this cutie?! She started PreK on Monday.
It's not been so great.
She has cried EVERY SINGLE DAY at drop off and then again when I pick her up.
At pick up day 1 she was crying because she wanted her jacket that she thought was in the room.
It was at home. I assured her it was. She still cried a lot and was then mad that it wasn't in her backpack to keep at school.
Day 2 pick up, they had a fire drill just as I got there. She was happy as she walked past me. She was happy when she passed by me to go back inside. She was crying when she came out to me. There was a folder mix up with a little girl named Madison. She accidentally grabbed Madelyn's folder but it was fixed right away. Maddie still cried.
Day 3... She was crying because she didn't get a snack. Know why she didn't get a snack?!
Because she stood up and just stood there instead of sitting down to eat it!! SHE JUST STOOD THERE!!
She told me she didn't dance during the songs because she just stood there. She told me that she didn't get to play because she just stood there.
It's not like she's trying to hide it from me, she told me herself that she just stands there.
Her teacher assured me that it was fine like they'd done daily and even said, "it's ONLY day 3. It'll be okay". I already love her teachers because they DO understand. They've had students act like this.
The first day they tried to talk to her and calm her down. They QUICKLY learned to just leave her to herself and she'd get over it; that talking to her just made matters worse.
This morning on our way out the door she complained that her bottom hurt.
She's had this issue before- she tried to hard to use the bathroom therefore causing herself pain.
She completely freaked out.
I lost my cool and yelled, a lot more than I'd like to admit.
Something about Maddie's screaming just causes me to lose it so SO fast.
I think she freaked so much as a way to get out of going to school today. I mean I don't doubt that it hurt a bit but this freak out was bigger than the last time she had this issue.
I calmed her down, hugged her, we got back in the car and tried to leave again. No more tears were shed until we got to school. We walked around back to where I drop her off and her teacher actually had to
pick her up and carry her in
.
I just don't get it. It's only 2 hours a day. She's gone to
preschool before
and it wasn't THIS bad. She was shy there but eventually came around & played & had a decent time.
She is so excited in the morning to get up and ready!
On the first day, she dropped her blankie (big deal!!) 1/2 way down the stairs because she was THAT excited to get dressed & ready!
I went out and bought her a little bracelet and told her that it'd make her brave. She told me it was fake because she still cried.
Yesterday we ran to the PX (it's like the walmart on post) for diapers and while there she saw a little Hello Kitty doll she wanted. I bought it (it was less than $2 so SCORE!) but told her she couldn't have it until she was good at PreK! She whined a
bit
lot about it but eventually understood.
So she woke up this morning before the bum mess and swore she was going to be good and brave and not cry (Like she'd one EVERY morning now) and said she was excited to get her Hello Kitty doll.
Then the bum thing happened....
Then her teacher had to carry her in....
I just don't know what to do.
Fin walks in with her. She met the teachers before school started. They came to the house to meet her.
She tells me all about what they do everyday in an excited tone once she gets over the crying.
She does homework at the table with Fin everyday so it's not like she doesn't like to learn.
I just don't get it. I don't know what to do. I mean I get that it's only the first week but going through this twice a day with her is just exhausting.
I know she'll eventually get over it but today...today I am stressed. Today I am exhausted. Today I'm embarrassed that it's my child every single day throwing fits like this. I'm confused because she says she liked it. She likes her teachers, the school, her friends. Today I'm just drained.
Here's to hoping tomorrow is better.
I pick her up in a bit, wish me luck!
Also, while you're here: I was nominated for Circle of Moms Top 24 Southern Moms of 2013.
Please take a second and go vote for me! You literally just have to click "vote"!
---------------------------------------------------------------------------------------------------------------