Happy Friday!
I'm posting a short sweet little thing today because it's the day before Fin's birthday party and I have a bajillion things to do.
This week's kindness:
letting people in front of me in the car lines, letting people cross or pull in in the school parking lot.
Being nice to strangers.
And if you follow me on
instagram
you probably saw this already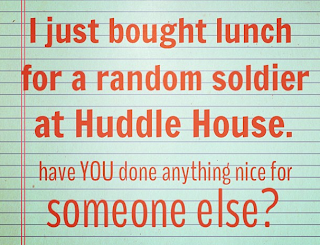 I also tipped his waiter.
I left before he was even close to done eating so I have no idea his reaction but I was happy to do it and happy picturing him a bit shocked and thankful.
Plus, he looked pretty grumptastic sitting there all by his lonesome and just looked like he needed a pick me up.
I hope you guys have a great weekend planned out! I can't wait to share with you the pictures from Fin's party! If it turns out half as good as I think it will, it's gonna be awesome!!
Also, please don't forget to vote. There are like 6 days left or so. You can vote daily and I would VERY much appreciate it!
T
h
ank you!!
Click
HERE
if you can't get past that pin-it button.
---------------------------------------------------------------------------------------------------------------